Rich text editor
Contents
Rich Text Editor is used by HTMLArea input type and for editing text component inside the Page Editor. It's capable of formatting the text in many different ways, using macros to insert code snippets and iFrames, inserting tables, images and content links etc.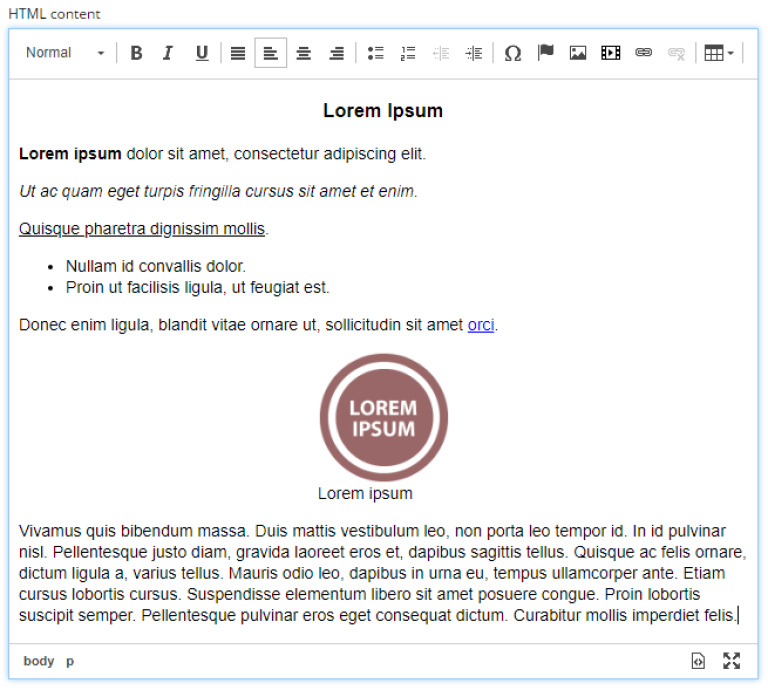 By default, Content Studio comes with one built-in image style called "Original (no image processing)". By applying this style to the image, you'll make sure that the image won't undergo any processing on the server and will be rendered "as is".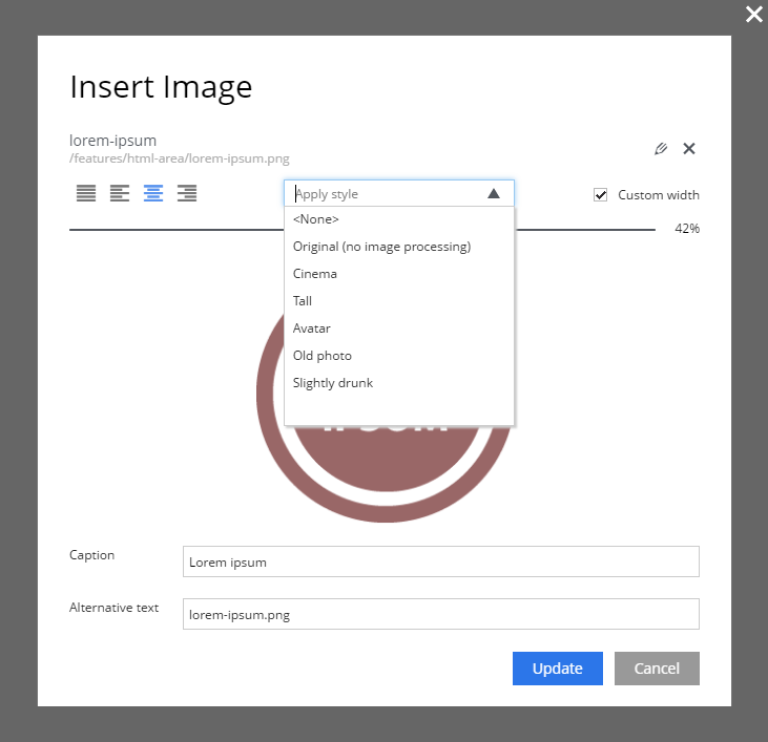 You can define your own styles in your application which will be automatically shown inside the dropdown with image styles inside the Image modal dialog as described below.
Define a file called styles.xml in the site folder of your app. The example below represents a couple of styles applying different server processing, like aspect-ratio and filter. As of now, only aspect-ratio and filter are supported.
/site/styles.xml
Unresolved directive in rich-text-editor.adoc - include::code/styles.xml[]
As you can see, the root styles element in styles.xml has an optional attribute called css. By using it you can define client-side CSS styles and (optionally) combine them with server-side processing styles.
Define a file called styles.css inside resources/assets folder. It has to match the path in the css attribute of styles element in styles.xml. So, in case of css="styles/styles.css" the file has to be located at resources/assets/styles/styles.css.
/site/styles.css
Unresolved directive in rich-text-editor.adoc - include::code/styles.css[]
| | |
| --- | --- |
| | All custom styles (no matter if they define server-side processing or client-side processing or combine both) must be defined in styles.xml. If you want to use client-side processing, define a CSS file and add reference to it from styles.xml via css attribute (as described above). Make sure that CSS class matches image.name from styles.xml (like editor-style-image-sepia in styles.xml and .editor-style-image-sepia in styles.css from the example above). |
---